Our mission is to provide professional cutlery of the highest quality to chefs, food service and hospitality professionals, as well as home cooking enthusiast's.
THE DRAGON SERIES
RECURVE STEAK KNIVES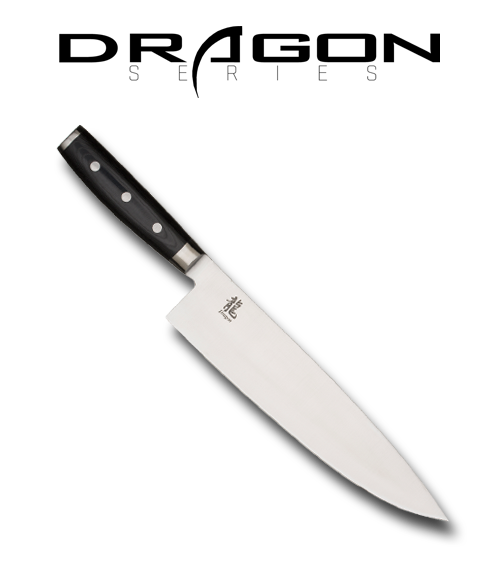 The Dragon Series is the Future!
The ultra-sharp blades are made from CTS-BD1N nitrogen steel, by Carpenter Technology of Wyomissing, PA. This new steel is the latest technology in the industry, and has a Rockwell hardness rating of 63HRC. This means the edge life will be far longer than other knives on the market. Each knife features stainless rivets, and a full tang double cast bolster construction. The attractive, comfortable and durable contoured handles are made of black Spanish Micarta, making the knives dishwasher safe.
With Dragon kitchen knives, you get the quality craftsmanship of one of Japan's oldest knife makers, and the durability of state-of-the-art American steel -- truly the best of both worlds.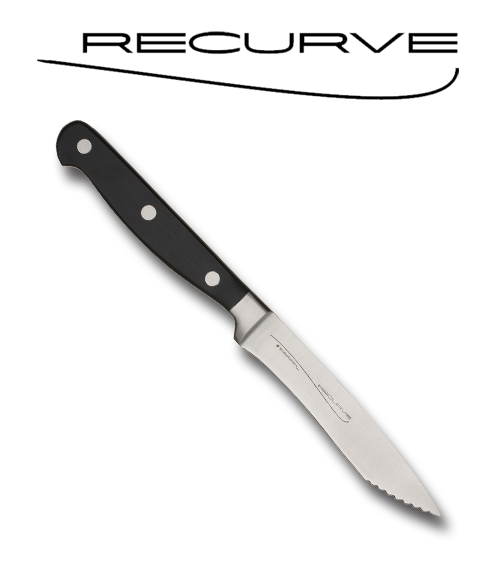 Sharper Knife=Better Tasting Steak
The unique patent pending RECURVE Steak Knife is designed to provide a clean cut that results in a better tasting steak. A piece of steak cut with a sharp knife retains more of its juices and is more flavorful, but ceramic dinner plates can easily dull an edge. Our unique blade geometry allows the knife to stay sharper longer by keeping the main part of the cutting edge away from the surface of the plate. The tip of the knife has a special reverse scallop serration that will not tear the steak as it cuts.
The RECURVE Steak Knife is forged from high grade German stainless steel with a durable handle material which is completely dishwasher safe.